WE WON! The Dish on Eating Healthy and Being Fabulous! was chosen as the "Best Health and Nutrition Book in the World" at the Gourmand World Cookbook Awards in Sweden. Dubbed the Oscars of the food and wine world, the award is quite an honor. The Dish was one of more than 5,000 books from 67 countries entered in the competition.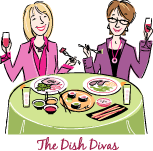 In our book, and on this web site, we offer up our own dishy spin on weight control. We say you should kiss negative nutrition goodbye. Instead, start choosing foods based on what they add to your life and health. So, with that in mind, here's what we're shooting for:
Let's make healthy eating fun and stylish.
Let's be healthy by eating more, not less.
Let's fit healthy eating into a hectic life.
Let's learn what works for you.
Choose any one of the buttons at the top of the page, and let's get started!
LATEST RAVE REVIEW: "This new book by Carolyn O'Neil and Densie Webb is the most fun book on nutrition you'll read this year!"
Go to www.3fatchicks.com for the full review.
Desperate Housewives aren't the only ones who cheat. But, who knew cheating was actually one of the keys to successful weight control? Check out the Dish Divas' Rules on "How to Cheat on Your Diet."
Share The Dish! Why not show your friends how fabulous they are and give them a copy of The Dish on Eating Healthy and Being Fabulous! The Dish is already showing up at wedding showers, birthday parties, as holiday gifts and as "just because you're you" gifts.